Vietnamese seafood – Big global brand
(TSVN) – From the integration period until now, the seafood industry has always been the leading "wing of seagulls" bringing Vietnamese products to friends around the world. Many people on all continents have developed special sympathy for the S-shaped country from enjoying the dishes made from Vietnamese seafood.
"The name is too big"
In a seminar on the global seafood market held in Ho Chi Minh City, a market expert from Europe commented: "Vietnamese seafood products are too big for not only Europe but also the world. and all over the world. Your country is very beautiful and the shrimp fields and ecological shrimp forests have been loved by the whole world."
In 2020, with $8.41 billion, Vietnam is the third largest seafood exporter in the world, after China and Norway. 2021 is an extremely difficult year due to the outbreak of COVID-19 in the southern provinces, but the estimated value of seafood exports is about $8.9 billion. Thus, it is likely that Vietnam is still firmly in the third position in the world in terms of seafood exports.
A doctorate in Thai shrimp industry told me: "We are ahead of you in exporting, but really the potential and advantage of Vietnam's seafood export is too great. The most modern seafood factories in Thailand are also located in Vietnam."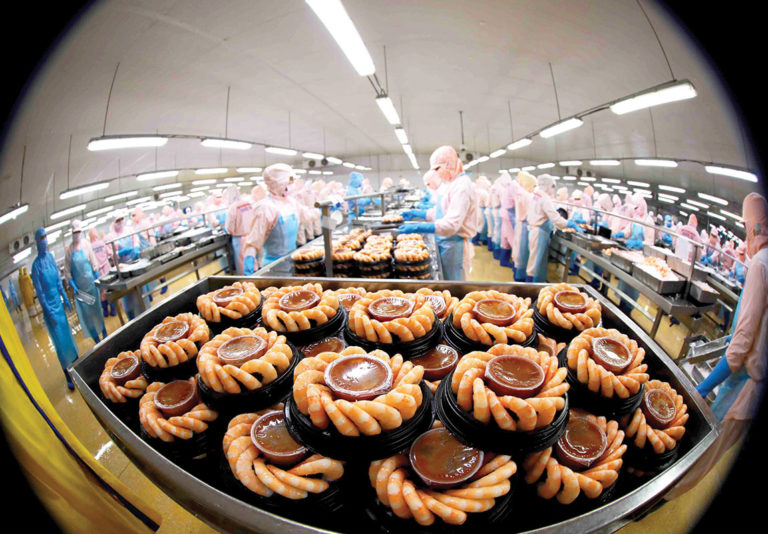 Shrimp processing technology is one of the fastest growing areas of Vietnam's seafood industry in recent years. Photo: Vu Sinh
Rapid but methodical development
Currently, there are 2,362 shrimp hatcheries nationwide, producing 79.3 million shrimp seed. The Mekong Delta region has about 120 broodstock production establishments, nearly 4,000 ha raising pangasius fingerlings; produced about 2 billion pangasius seed.
Viet Uc is one of the famous global broodstock production groups. Mr. Luong Thanh Van, Chairman of the Board of Directors and General Director,  said: "I think that Vietnam cannot develop the shrimp industry but has to go to the toilet next to seed from other countries. Therefore, we have concentrated all our resources on making broodstock. Currently, a lot of countries are ordering broodstock from Viet Australia, but we give priority to farming in Vietnam."
In fact, in recent years, due to the epidemic, Thailand's shrimp industry has only developed in moderation, and the seed industry has also been affected more or less. Meanwhile, Vietnamese shrimp hatcheries are still doing well.
>> Vietnam has set a target that by 2030, seafood export value will be about 14-16 billion USD and can rise to second place in the world.
In export, Vietnam's Minh Phu Group is among the top 50 largest seafood exporters in the world. The Group's long-term business strategy is to reach 25% of the world shrimp market share by 2045. This is a reasonable calculation, because Minh Phu currently has many good experts in the world working and making recommendations. methodical routes from building farming areas, renewing technology and expanding markets.
Deep integration
According to statistics, from 1995 to 2020, Vietnam's fishing output increased more than four times, growing at an average of 6% per year. There are more than  94,000 fishing vessels nationwide. Especially, there are 4,227 teams operating with 29,588 fishing vessels and 179,601 workers at sea.
It can be said that Vietnam's seafood industry is parallel with "two oars": farming and exploitation. As a result, exports grew steadily. From 1997 to 2020, exports increased 11 times, growing at an average annual rate of 10%.
According to VASEP, Vietnamese seafood products are present in more than 160 markets around the world. In which the top 10 markets include: US, EU, Japan, China, Korea, ASEAN, Australia, UK, Canada, Russia. Thanks to its prestige and potential, the seafood industry is operating well with 16 FTAs, (accounting for 73% of Vietnam's seafood export value).
On March 11, 2021, the Prime Minister approved the Strategy to develop Vietnam's fisheries to 2030, with a vision to 2045, with the goal: "Developing fisheries into an important national economic sector, large commodity production associated with industrialization – modernization, sustainable development and proactive adaptation to climate change; have a reasonable structure and organizational form of production, high productivity, quality and efficiency; has a prestigious brand name, competitiveness and international integration…". By 2030, Vietnam's seafood exports will be about 14-16 billion USD and can rise to second place in the world.
Protect resources and reduce costs
There was a period when aquaculture development was too hot, people destroyed forests for shrimp farming, but now Vietnam's seafood industry has turned to sustainable development, combining shrimp farming with keeping mangroves, developing ecological shrimp. protection of aquatic resources.
To offset production, the southern provinces, especially Bac Lieu and Ca Mau, have accelerated the progress of industrial shrimp farming and intensive farming to reduce the load on ecological shrimp farming areas. Many marine protected areas and mangrove forests have been and are being strictly protected, in order to create migratory and breeding environments for aquatic species.
Vietnam ranks 16th among countries with the highest biodiversity in the world with more than 11,000 marine species discovered, including 1,385 seafood species, many rare species. This is a potential for marine tourism that will be exploited in the near future.
However, Vietnam's seafood industry is facing a number of new challenges that need to be thoroughly addressed. The most prominent issue is the issue of combating illegal, unreported and unregulated (IUU) fishing. It is expected that in the first quarter of 2022, the European Commission (EC) will visit the actual implementation of the recommendations on combating IUU fishing in Vietnam. Hopefully, with the efforts of the Government and people, the EC will soon remove the "yellow card" for Vietnamese seafood.
The seafood industry has set an export target of 9 billion USD in 2022. According to experts, this goal can be completed soon, because markets are still "eating" Vietnamese goods very strongly in the last months of 2021. and early 2022, creating a good premise for exports next year.
However, according to VASEP, compared to competitors like India and Ecuador in the US market, the price of Vietnamese shrimp is 3 to 4 USD/kg higher. Thus, to be able to develop sustainably, Vietnam's seafood industry needs to make efforts to reduce product costs, to increase competitiveness in the world market, and at the same time to help global consumers access products. from Vietnam with the most suitable price in the difficult situation for everyone